Social media

has

evolved.
We've said

goodbye

to simple

status

updates




hello

to

selling

and

digital

communities



So

, what's on the horizon for

2022

?
From the staying power of

short-form video

to an emphasis on mental health,
we're

sharing

the top social media

trends

to

pay

attention

to this year.
Top 10

social

media trends we expect to see making waves

in 2022
1. The
Creator Economy

Will Boom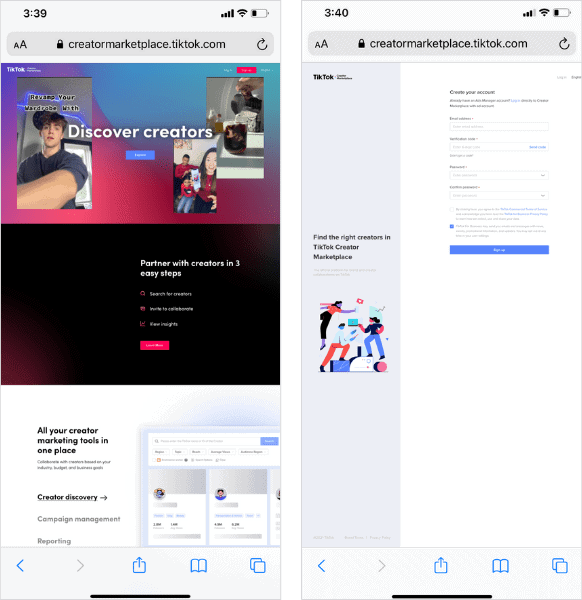 The creator economy is now worth over $100 billion, and we predict it's just getting started. Many platforms have started to heavily invest in creator marketplaces and creator tools – like TikTok, Instagram, Pinterest, and even LinkedIn.  These tools help make it easier for creators to connect with their audience and collaborate with brands.
As social media platforms move more into the e-commerce space, it makes sense to invest in creators who are driving engagement, growing engaged communities, and promoting products.
And if you thought the creator community was oversaturated, think again. There are thousands of creators who've seen huge growth within the span of a year or two –  they've simply found their niche and stuck to it.  Take @coffeebae97 who started her TikTok account in April 2020 and now has over 1.2M combined followers on TikTok and Instagram: Or Kat Norton who started her Instagram account in September 2020 and now has over 500K followers
2. More
Streamlined

Social

Commerce

 
Social commerce is a subset of e-commerce where everything happens on social media – product discovery, click-to-purchase, and post-purchase support. 
And it's revolutionizing the way we shop:
Social media has become a virtual mall of sorts, right in the palm of our hands. We can browse products, find inspiration, and purchase within a few clicks.
As a result, platforms have begun to introduce new social commerce tools: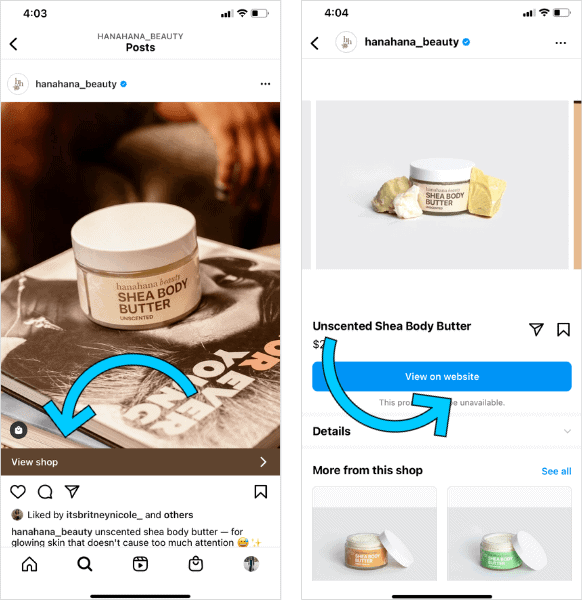 In 2022, we predict a doubling-down on social commerce, as each platform vies to make their shopping features the best-in-class for both consumers and brands alike. 
Speaking of shopping on social media, with Later's Linkin.bio tool, you can seamlessly drive clicks to your website or individual product pages. Learn more here:
3. Short-form
Vertical

Video

is

Here

to

Stay
Short-form vertical video has boomed, thanks to the rise of TikTok and Instagram Reels. 
Not only is video content an engaging form of storytelling and a way to drive sales, it's also a major growth hack: 
Videos on Instagram get more engagement than other formats

Tweets with videos generate 10x more engagement than those without

Pinterest reported a 240% increase YoY of organic video pins from 2020 to 2021
In the past year alone, we've seen brands and creators use video to connect with their audience on a deeper level, spotlight products, and raise awareness about causes they care about.
In 2022, we think we'll see a lot of new trends and creative content pop up – whether it's fun editing transitions or in-depth tutorials.
TIP:
Over 430M people in the world are Deaf or Hard of Hearing, and 85% of video on Facebook is watched without sound.
So, we suggest using subtitles (or captions) on your videos to make them more accessible.
4. An Emphasis on
Mental Health

&

Burnout

Prevention

 
According to a recent report by Vibely, 90% of creators have experienced burnout and 71% have considered quitting social media altogether.
Between ongoing lockdowns, more time spent online, and the pressure to consistently churn out content, the digital burnout is real.
In 2021, we noticed an uptick in creators and brands talking about self-care, setting digital boundaries, and taking breaks:
And in 2022, there'll be more conversations surrounding our relationship with social media and how it affects us.
Even Instagram's joined the fray, with their new "Take a Break" feature, which is being tested in the US, the UK, Ireland, Canada, Australia, and New Zealand:
The feature allows users to "receive break reminders in-app"
after a duration of their choosing. 
Instagram says they'll also provide expert-backed tips on what you can do during your break like listening to your favorite song or taking a few deep breaths. 
5. A
Renewed

Focus on

Accountability

&

Diversity

 

In 2020, we saw many brands speak out against racism, with promises to listen, learn, and do better. 

Now two years later, the question remains: what's next? 

Judging from a recent report, which found that the pay gap between white influencers and BIPOC influencers is 29%, brands still have a ways to go.

While diversity and inclusion should never be a "social media trend" per se, we predict there will be an ongoing conversation about holding brands accountable to the promises they made to their followers. 

From influencer partnerships to event speaker lineups, we hope it becomes more of a standard moving forward.

In other words, no longer something to simply check off your list. 

To learn how to create a more inclusive marketing strategy, watch our workshop with strategist Sonia Thompson:
Everyone loves a good meme, right? In 2022, we predict memes (both static and video) are going to have an even bigger moment.
We've seen thousands of niche meme accounts pop up on the scene for everything from astrology to social media manager woes:
And
popular

meme

account

Saint Hoax even partnered
with the Met Gala in 2021 as a "

meme

correspondent

"
to cover its

biggest

moment

:
Memes are a great way for
brands

and

creators

to

connect

with their

audience

and join trending conversations. And the best part? They

don't need

to be

fancy

.
In short?

Memes are here to stay

, and the

more

creative

or nimble you are
–

the

better
7.
Social

Media Posts

as

a Form of

Currency
Pay

for a product

with

a social media

post

?
Yep

,
it's

real and this social media trend is

just getting started
The
result

?
Long lines and
consistently




sold

out

products. 

Similarly, Bun Burgers let customers to pay for their food with "TikTok currency" for the month of November. This video alone got over 6M views

While TikTokers got free burgers, Bun Burgers gained brand awareness and free user-generated content. 

As the world opens up again and brands begin planning in-person events, these types of campaigns could take off. Watch this space.
 LinkedIn and influencer:
two words you likely never thought would work together.
But in 2022, think again. "LinkedIn is an underrated platform," says marketing strategist and LinkedIn creator Sara Lattanzio.
"They've started to invest more in creators. From the Creator Mode rollout to global creator programs, they're making it easier to share content and grow an audience. It's just the beginning." LinkedIn even launched its first Creator Accelerator last year, with creator Jon Youshaei encouraging others not to sleep on the platform
But why LinkedIn's sudden popularity?
"The shift to work from home culture made many people realize the importance of creating a memorable personal brand outside of the one you have with your company," shares Marketer and Creator, Danica S. Nelson.  "LinkedIn is a great way to create visibility and showcase thought leadership within your broader network." Not to mention, the engagement potential is bananas. Check out this post that has over 20K reactions: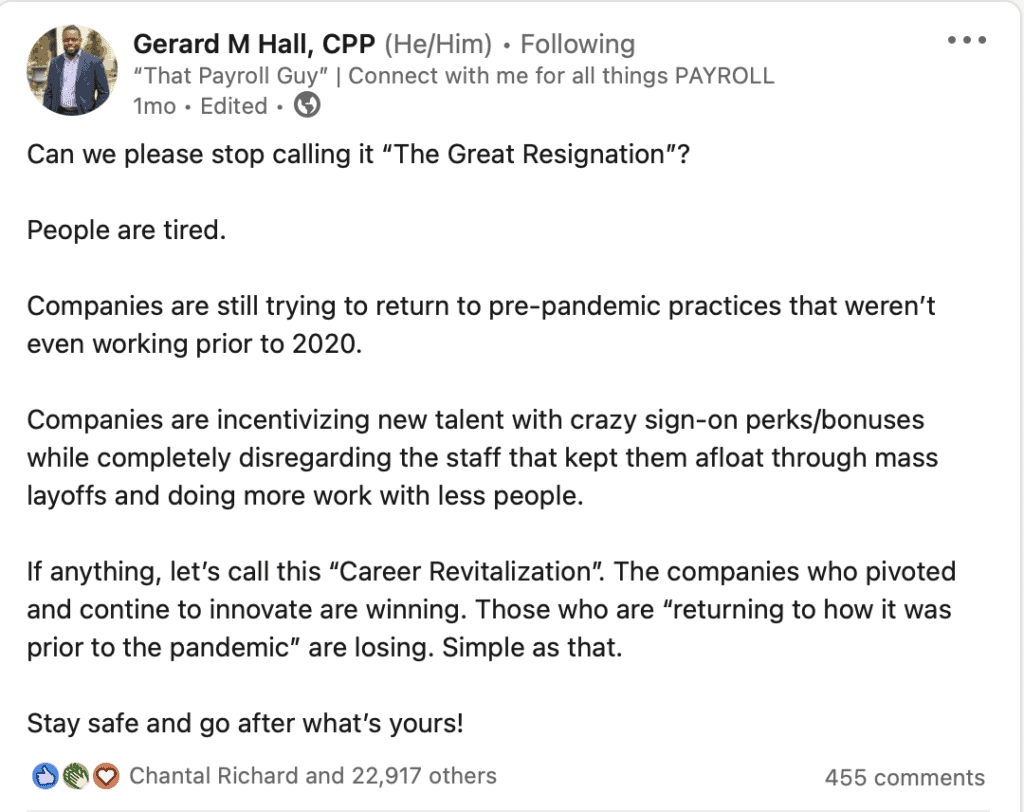 We predict more creators using the platform,
professionals growing their personal brands,
and CEOs positioning themselves as experts in their field
"What I hope we don't see more of is the recycling of polls that ask whether internships should be paid or unpaid. Enough please," adds Danica.
9. The "
No

Filter

" Feed Takes Over 

Creators and brands alike are shifting away from the perfectly curated feed aesthetic, and choosing to share less filtered and more in-the-moment content.
This trend goes hand-in-hand with the rise of authenticity over recent years, which has seen a shift in the type of content posted on social media.
In 2022, we predict brands and creators will spend less time creating a picture-perfect perception, and more time fostering deeper relationships with their followers.
For the biggest photo editing trends, check out this post: The Biggest Photo Editing Trends on Instagram Right Now.
10.
Brands

Let Loose

on

TikTok

 


TikTok was the
cool

kid

on the block in

2021

, and that won't change in

2022

.

With over 1B monthly active users, TikTok is a space for anyone and everyone – with a less filtered and curated vibe than Instagram. 

Brands who've pivoted to TikTok like The Washington Post or Starface, have been able to tap into the fun, zany, and bold side of the platform:
And with 60% of TikTok users being

Gen

Zers


(the ultimate

trendsetters

),
we predict more

brands

letting loose
and trying to

tap

into

that

market. 
Take Duolingo, whose TikTok content is so different from what it posts on other platforms:

They've nailed their TikTok

strategy
by incorporating trending sounds with their oversized bird mascot –
it's

chaotic


(in a

good

way)
The
result

?

Millions of views and thousands of comments, on the regular. With TikTok, brands can be more casual and experimental. We're looking forward to seeing how this trend evolves throughout the year. Like we said, social media is the wild west – it's constantly evolving. And while it can be overwhelming when a new feature drops or a trend emerges, it allows you to experiment and see what works best for your specific audience and goals. 
So

…
whether it's

posting

more meme

content

or
leveraging in-app

shopping

features

,
we're tapping these

10 social media trends

as ones to watch.