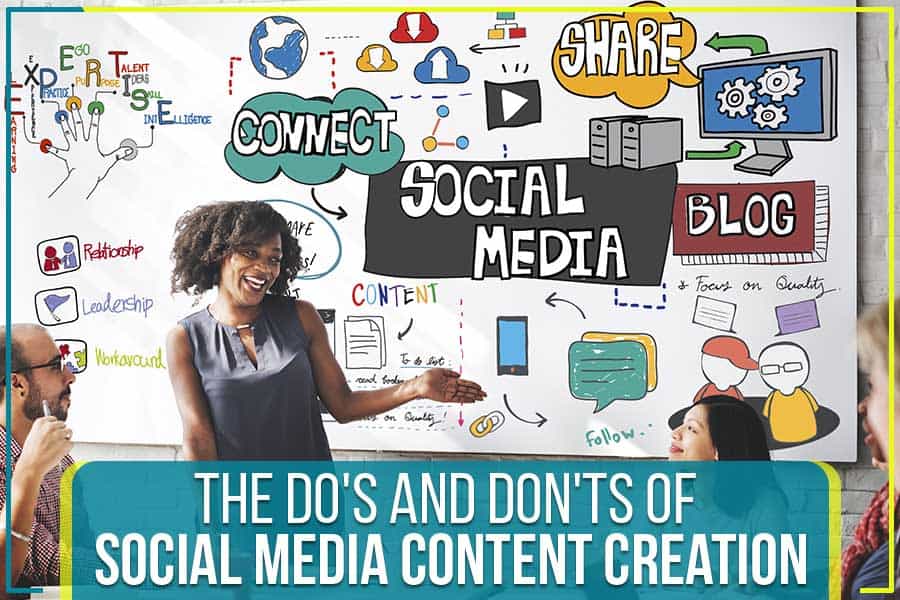 The Do's And Don'ts
Of Social Media Content Creation
It doesn't matter if you're a local contractor or an e-commerce business owner—the importance of excellent social media content can't be overstated. Social media platforms give businesses of all sizes and niches a chance to market directly to consumers while establishing a digital footprint. Therefore, it's vital to have a strategy in place to ensure you're making the most of your online presence and meaningfully connecting with your target audience.
Below, our team reviewed some do's and don'ts of social media content.
Showcase
Your
Brand
Reflect on your business's story and implement its unique narrative and voice into your content. A well-established branding differentiates you from your competitors. This is especially important in industries that offer similar services or products.
Brand identity is often an important deciding factor in consumer purchasing decisions; clients prefer to buy products and services from businesses they know or feel that they know. So not only does stand-out branding keep your company top of mind, but it cultivates trust and a sense of community with your followers.   
Do Follow the 80/20 Rule
Directly promoting services and products should not be your primary objective on social media. In fact, only 20% of your posts should overtly advertise, and even then, it's crucial to exercise sensitivity.
Remember: your audience doesn't want to be bombarded with promotional material while scrolling through their feeds and looking at photos of their new nieces and nephews. Instead, they want to connect and socialize. So produce engaging content that allows them to connect with you and your business!
Do Create Quality, Dynamic Content with a Strategy in Place
We are in the digital age. Consumers are digesting content every day at an ever-increasing pace. It's vital to satiate their appetite for engaging material if you hope to stand above your competitors. Therefore, you need to have an intricately designed, goal-driven strategy for your digital marketing efforts—and you need to deliver content across various mediums (video, photographs, animations, infographics, blogs, ebooks, newsletters, etc.). You also need to produce quality content that's worthy of engagement and "going viral."
Lead Revenue's advanced content creation and social media management will provide you with the information and tools you need to reach your goals. Not only will we work with you one-on-one to craft robustly optimized written and visual materials, but we'll help you develop, launch, and manage a competitive yearly marketing plan to set your business up for success. See what we can do for you and your bottom line with a zero-obligation free demo. 
Don't Forget About Your Audience
Your content needs to resonate with your target audience first and foremost. This is where your tone and brand voice effectively come into play and which platforms you should focus on most (although no platform should be neglected). You also want to ensure your content addresses and solves your audience's pain points while providing value. This is best accomplished through creating client personas, then shaping your strategy around them and your business's objectives.  
Don't Publish Content that Requires Editing
This applies to both written and visual material; to maintain a professional appearance and your audience's respect and interest, it's critical to always proofread your content and ensure the images and videos are error-free. While you can certainly do this yourself, working with an expert digital marketing agency guarantees quality control that consistently meets a professional standard.  
Lead Revenue will Build Your Content and Strategy
At Lead Revenue, we go far beyond our competition by not only implementing proven SEO practices but through the depth of our involvement in creating highly customized content. Our team of experts will dedicate themselves to capturing your company's voice and personality through diverse and engaging content.